All about Retirement Savings Plans
December is not just Christmas or New Year's Eve, it is also associated with the Retirement Savings Plan (RSP). Usually we remember the tax benefits around this time with the campaigns of banks, insurance companies and management companies. There are several existing solutions.
For this reason, we retrieved an article we wrote in 2021 on RSP, why we should subscribe to a RSP, taking the opportunity to develop the subject a little further and make savers and investors aware of the need and importance of preparing the reform in a timely manner.
In this article, and by way of summary, we focus the analysis on the following points:
The types of RSP, either in the insurance format or in the investment fund format;
The tax advantages;
RSP costs and investment policy;
In this new article we will give examples of RSP and mention its main characteristics.
At a conference organized by the Católica Porto Investment Club, in which I had the pleasure of participating, the central theme was savings and what the future holds. There is a growing concern with the subject and the younger ones, who are preparing to enter active life, are projecting a change in the investment paradigm in Portugal. The younger generations are more prepared, seek more knowledge and want to guarantee a healthier future in financial terms.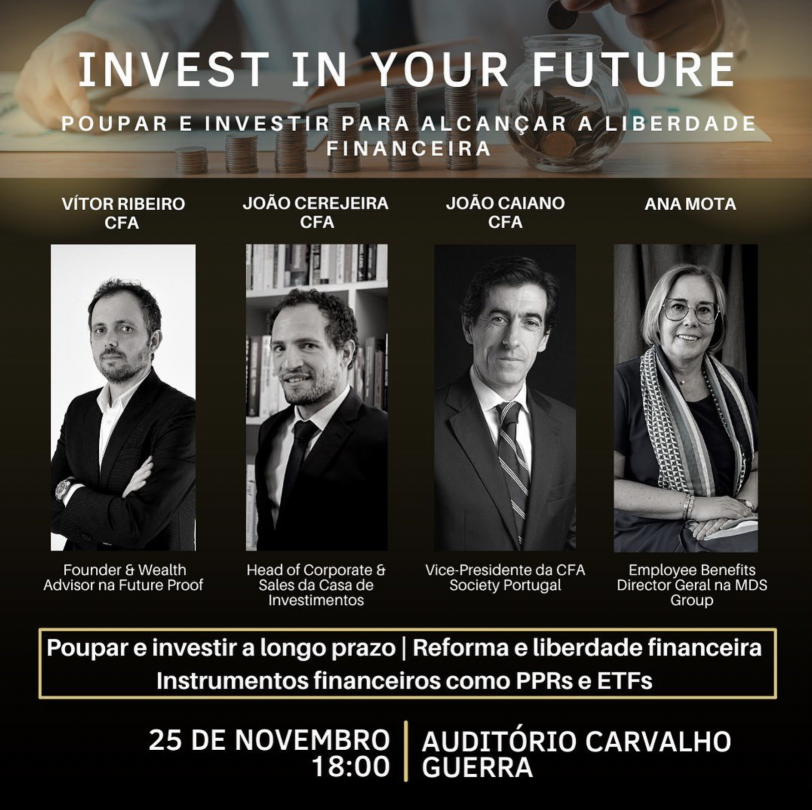 The end result of the various interventions could not be clearer: the current system, which survives on the contributions of current workers and the gradual increase in the retirement age, is not sustainable and will soon pay between 40% and 50% of the last salary . This means a loss of purchasing power and a high standard of living and the need to look for alternatives that allow us to achieve freedom and financial independence.
In an interview published on November 17, 2022 in Jornal de Negócios, the former president of the Treasury and Public Debt Management Agency (IGCP), Cristina Casalinho, also came to add a warning to this situation, showing herself to be "surprised" by the fact that the Portuguese still believe in the ability of pensions to replace 100% of their income from work and he underlined that this perception is "out of step with reality" and requires "reflection".
Invest in you Future
In a poll carried out by Future Proof on Linkedin, we asked which characteristic you value most when making a decision to invest in a RSP. The response from the audience was as follows: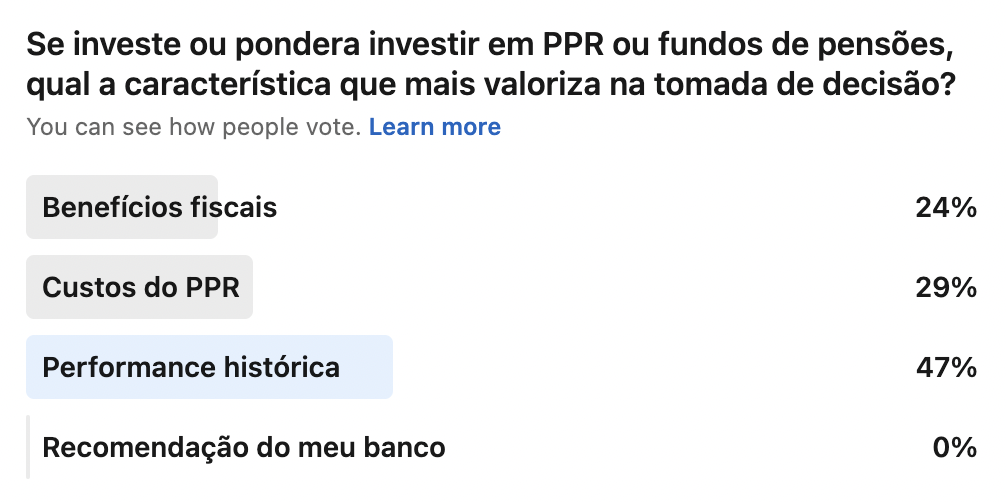 We tend to associate RSP investment with tax benefits. However, as is noticeable in this small sample, the analysis of historical performance proves to be important for almost half of the voters and 29% considered the RSP policy and costs as the factor to be considered.
Could we reconcile all these factors and select the optimal PPR?
I would say yes. The offer of RSP has been growing, not only in quantity, but especially in quality. In this analysis by Luís Silva, we can see the performance evolution of a selection of recent RSP and over 10 years old: RSP analysis.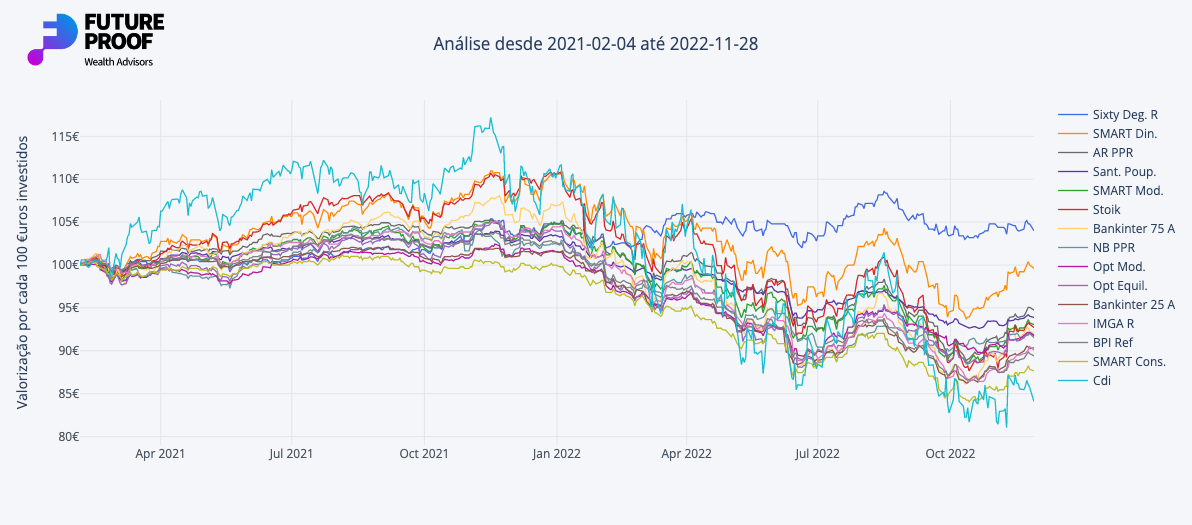 And it never hurts to remember that:
We can subscribe and have several RSPs with different profiles, risk levels and investment policies;
We can transfer RSP between institutions that manage them. The transfers do not have any fiscal impact and can mean a better strategic allocation, as many RSPs have investment policies, costs and expected performance that are out of line with the investors' objective.
So what is the best RSP to invest in?
Future Proof is a bound agent of Banco Invest and as such makes available to its customers the offer of RSP managed by Invest Gestão de Activos SGOIC SA, the management company of Banco Invest.
The offer is based on the investment fund format and has 3 strategies implemented in 5 different PPR investment funds:
Invest AR RSP;
Smart Invest, through the independent strategies Smart Invest Conservative, Moderate and Dynamic RSP;
Invest Global Trends RSP
In addition to the possibility of transferring your current RSP to one of these RSPs, you can also create or reinforce these RSPs through the scheduling tool. Appointments to reinforce the RSP are carried out via direct debit, defined by periodic transfer where, by debiting an account you have at any bank, you subscribe to the defined RSP.
It is a simple and disciplined way to create the habit of saving, investing in funds with quality and efficiency.
Without prejudice to carefully analyzing the fundamental investor information, investment policies, prospectuses and other fund documents, we leave below a brief description of the 3 strategies as well as the pages dedicated to each one for a more in-depth analysis.
Invest AR RSP
Invest AR RSP is one of the main PPRs on the market. With a history of more than 20 years, it is recognized for its track record and management quality. The strategy aims for a global and diversified asset allocation, having been awarded as best of its class in the last 10 years, according to Morningstar, in the category of "Eur Defensive Mixed Funds".
Main features:
It can be set up with a minimum of €50;
Subscription fee 0%, redemption fee of 1% for redemptions of less than 1 year and 0% for redemptions of more than 1 year and ongoing charges rate of 1.58%.
As at 31 October, the asset allocation was as follows: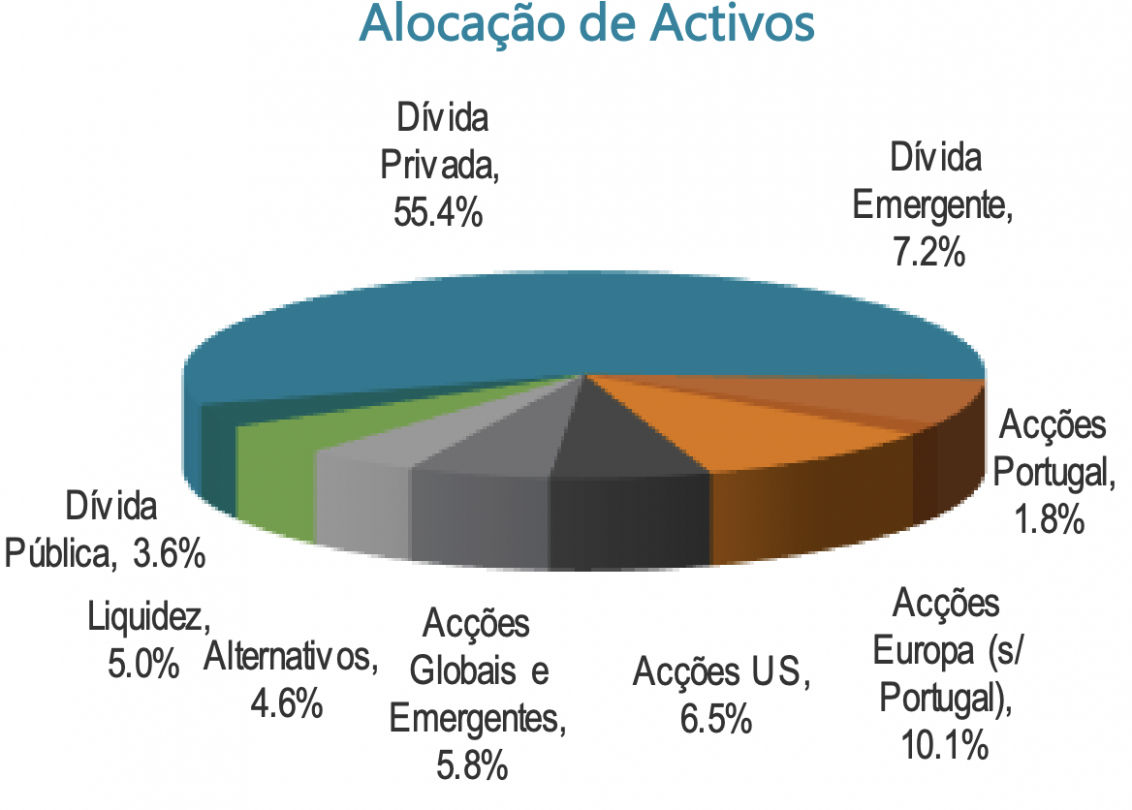 Source: Banco Invest
Smart RSP
The Smart Invest strategy involves a global, diversified and fiscally efficient portfolio, through a RSP with 3 sub-funds depending on their risk profile.
Main features:
Investing in multiple globally diversified asset classes;
Available from €50 investment;
0% subscription fee, 0% redemption fee and ongoing charges rate of 1.62% for the conservative profile, 1.59% for the moderate profile and 1.40% for the dynamic profile;
Use of advanced technology - robot advisor - allows the creation of sophisticated portfolios at a low cost and, consequently, above-average returns.
On the page dedicated to the strategy, you can simulate your investment by selecting the profile (conservative, moderate or dynamic), the term, the initial amount and the monthly boost, as shown in the following example: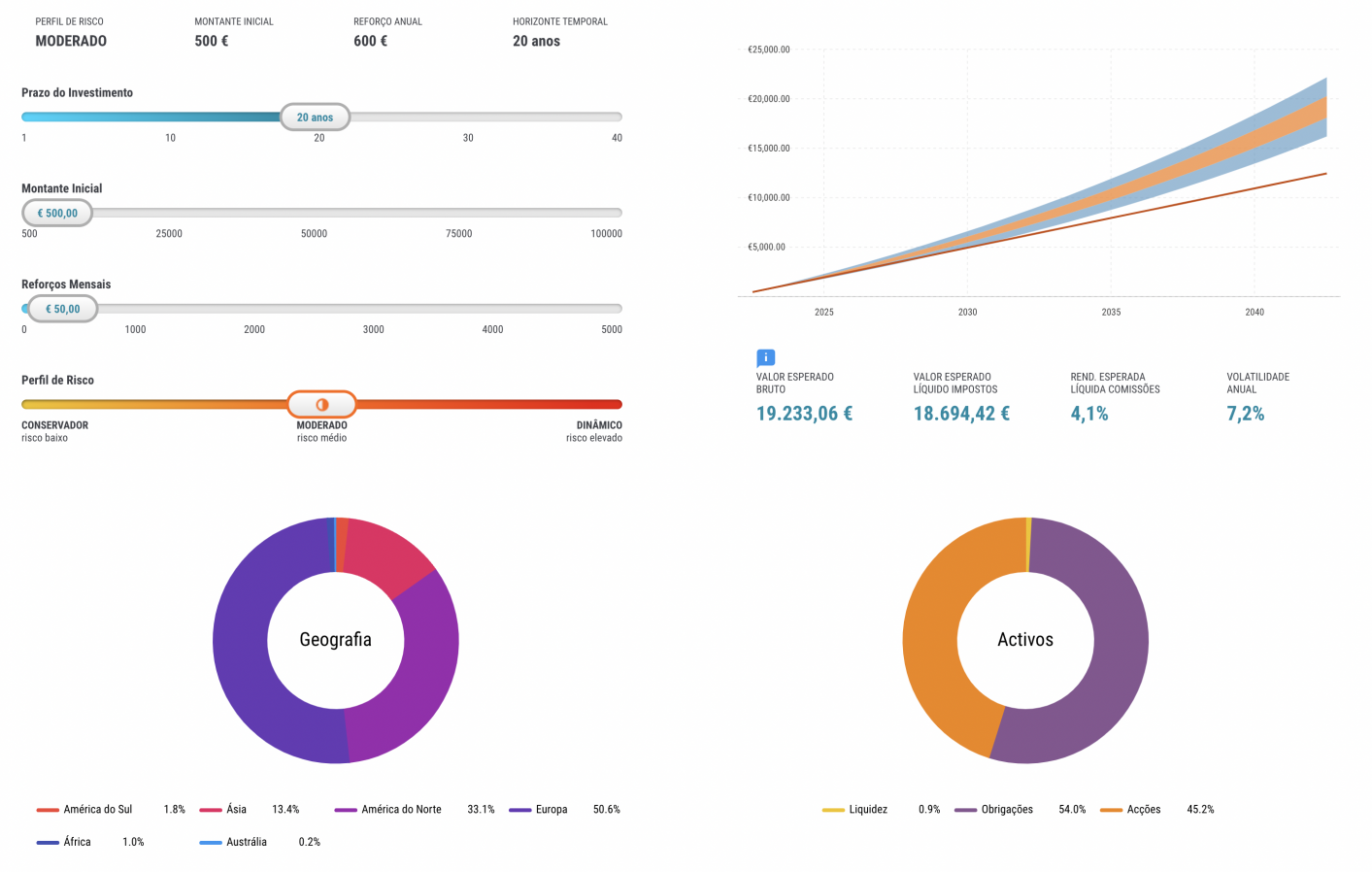 Invest Global Trends RSP
Invest Global Trends is the latest PPR made available by Invest Gestão de Ativos. The investment rationale involves investing in themes that will mark the next decade, such as digitization, energy transition and demographic changes.
The investment philosophy involves investing in companies with:
High returns on invested capital (ROIC), obtained on a recurring basis;
Competitive advantages highly difficult to replicate;
Efficient capital allocation;
Low debt levels;
Possibility of growth above the average of the sector in which they operate;
Management teams with a positive track record;
Good ESG ratings and integration of environmental, social and governance factors.
On the page dedicated to the fund, it is also possible to simulate your investment using various scenarios.
Main features:
It can be set up with a minimum of €50;
Entry fee 0%, redemption fee 0% and ongoing charges rate of 1.60%.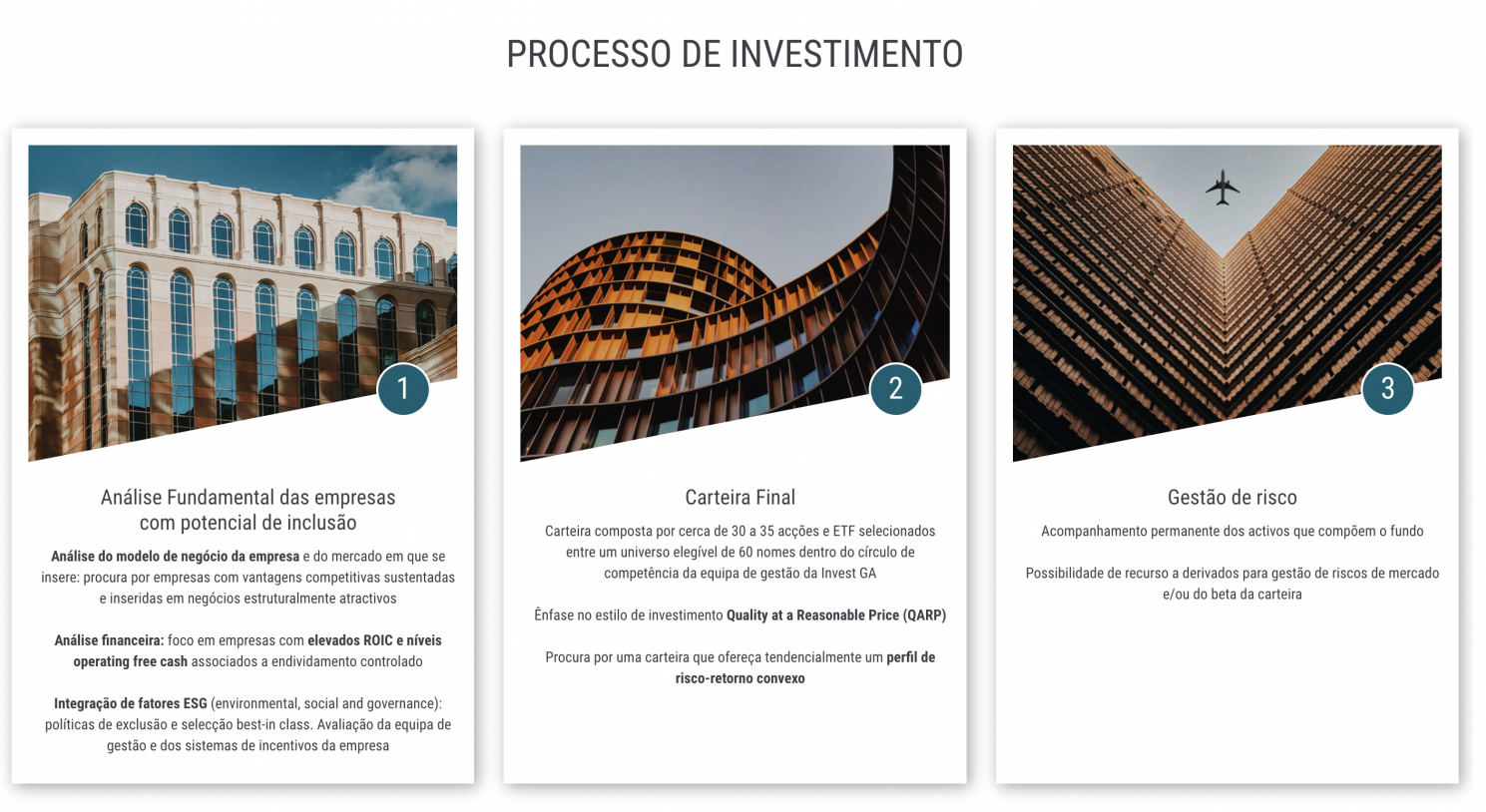 So, don't wait and start investing today. If you already invest, try to find out if you have the right solutions and suitable for your specific situation.
Contact us for more information, questions or doubts that you would like to see clarified.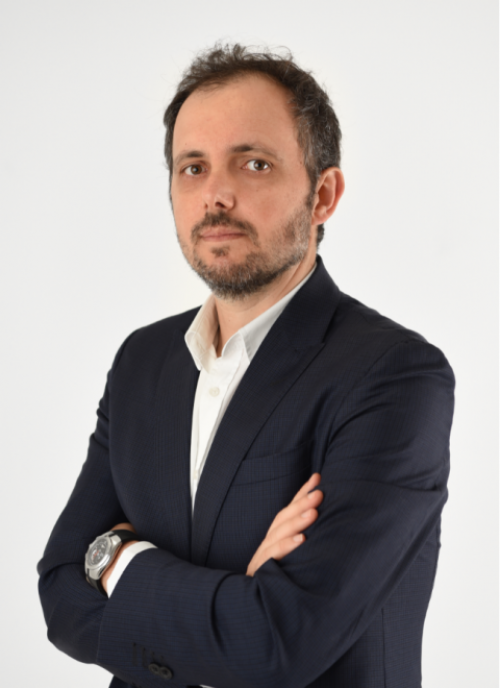 Vítor Ribeiro, CFA
Vítor is a CFA® charterholder, entrepreneur, music lover and with a dream of building a true investment and financial planning ecosystem at the service of families and organizations.
All articles
+351 939873441 (Vítor Mário Ribeiro, CFA)
+351 938438594 (Luís Silva)
Future Proof is an Appointed Representative of Banco Invest, S.A.. It is registered at CMVM.