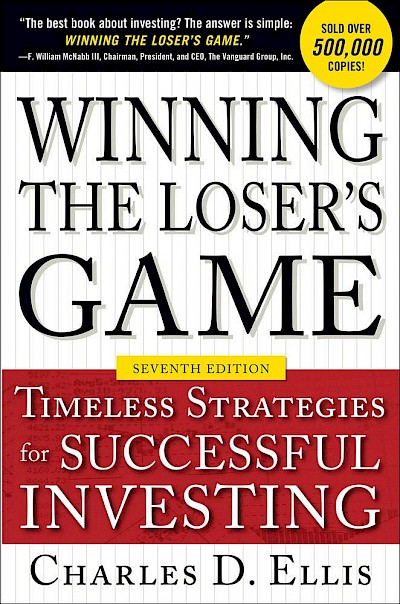 Winning the Loser's game
Peter Drucker referred to Winning the Loser's Game as "by far the best book on investment policy and management." Now, in it's fifth edition, the investing classic has been updated and improved.
With refreshing candor, straight talk, and good humor, Winning the Loser's Game helps individual investors succeed with their investments and control their financial futures. Ellis, dubbed "Wall Street's Wisest Man" by Money magazine, has been showing investors for three decades how stock markets really work and what individuals can do to be sure they are long-term winners.
Applying wisdom gained from half a century of working with the leading investment managers and securities firms around the world, Ellis explains how to avoid common traps and get on the road to investment success.
Winning the Loser's Game helps you set realistic objectives and develop a sensible strategy. You will learn how to:
Create an investment program based on the realities of markets
Use the "unfair" index fund to succeed, even in tumultuous markets
Institute an annual review process to steer your investments well into the future
Maximize investing success through five stages, from earning and saving through investing, estate planning, and giving
The need for a trustworthy investing guide has never been greater. Sixty million individuals with 401(k)s are now responsible for making important investment decisions. They know they're not experts but don't know whom to trust.
Winning the Loser's Game explains why conventional investing is a loser's game, and how you can easily make it a winner's game!
+351 939873441 (Vítor Mário Ribeiro, CFA)
+351 938438594 (Luís Silva)
Future Proof is an Appointed Representative of Banco Invest, S.A.. It is registered at CMVM.